Eye Donation: Awareness in Urban Population of Pakistan: An Analysis
Muhammad Akhtar Parvez

Assistant Professor, Community Medicine, Punjab Medical College, Faisalabad

Shehla Alvi

Associate Professor, Psychiatry, United Medical and Dental College, Karachi

Khalid Mahida

Associate Professor, ENT Ziauddin University , Karachi

Samra Subhani

Lecturer, Economics G.C University, Faisalabad

Rakesh Kumar

House Officer, JPMC, Karachi

Abdul Basit

House Officer, Ziaudin University, Karachi

Maham Baig

Final Year Student, Dow Medical College, Karachi

Shahkamal Hashmi

Assistant Professor, School of Public Health, Dow University of Health Sciences, Karachi
Keywords:
Eye donation, religion, nobility, willing, media, perception
Abstract
Objectives: To evaluate the awareness and willingness of an eye donation among urban population of Pakistan. Methodology: A cross sectional study was conducted among urban population of Pakistan to access the awareness and concern about eye donation. For this a convenient sampling technique was used and a self-administrative questionnaire was administered. Participants were selected from 3 provinces and 5 major cities of Pakistan. A total of 1520 responded, 52.6% were males and 47.4% were females. Results: 530(66.2%) out of 800 male and 463(64.3%) out of 720 female participants were aware about eye donation. Willingness to donate eyes after death was only seen in about 54/800 (6.7%) males and 58/720 (8%) females. Mass media, television, radio were the most common source of information for both male 342/800 (42.7%) and female 316/720 (43.8%) regarding eye donation. At the end nobility was treated the most common influencing factor for both male 102/800 (12.7%) and female 145/720 (20%) participants.
Conclusion: Awareness of eye donation among urban population was not found to be adequate and the willingness for eye donation is too much low. This may be because of lack of high literacy rate in Pakistan, no government eye banks, very few NGO's eye bank and lack of eye donation awareness campaigns.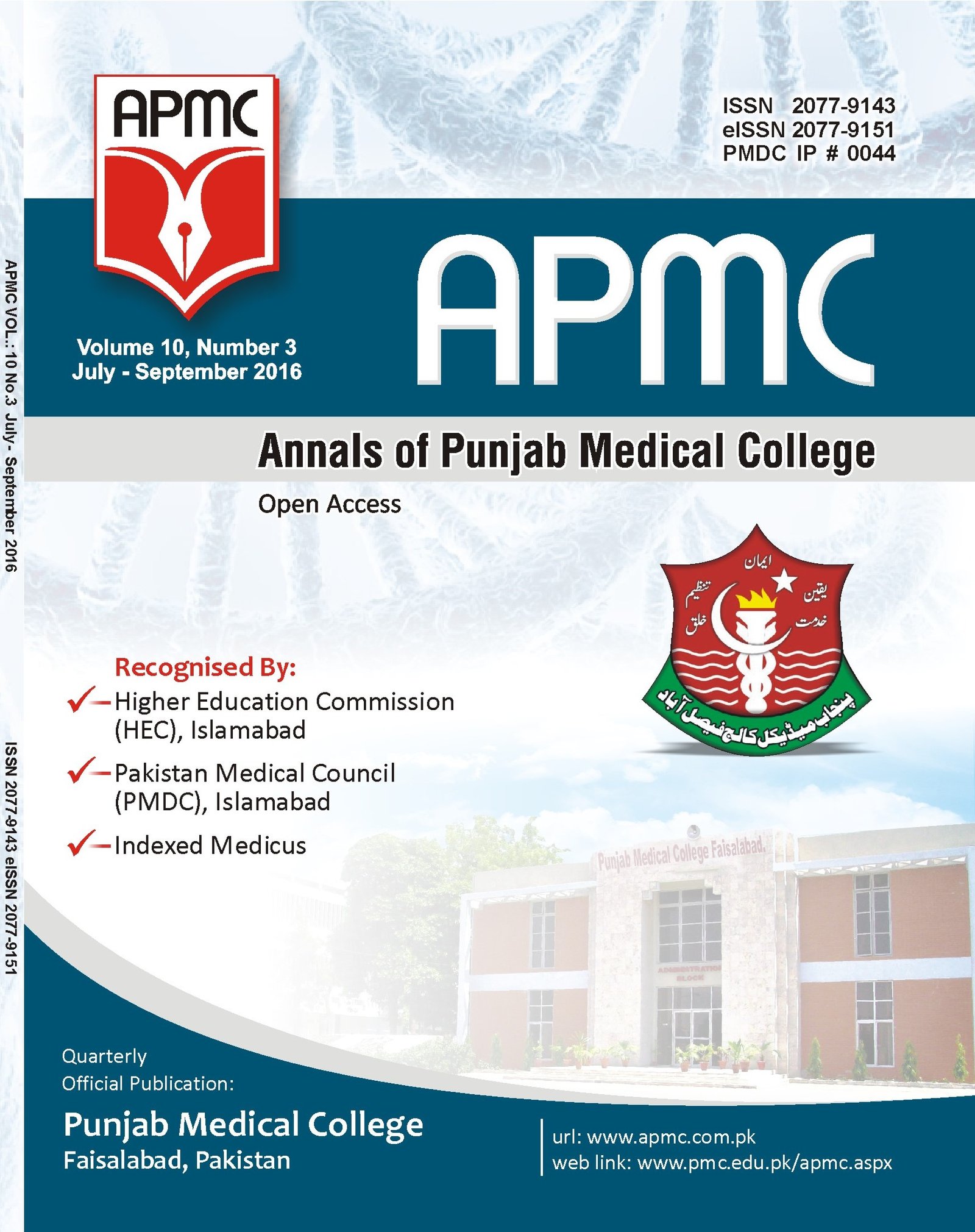 How to Cite
Parvez, M., Alvi, S., Mahida, K., Subhani, S., Kumar, R., Basit, A., Baig, M., & Hashmi, S. (2016). Eye Donation: Awareness in Urban Population of Pakistan: An Analysis. Annals of Punjab Medical College (APMC), 10(3), 142-146. https://doi.org/10.29054/apmc/2016.280