Frequency of Co-Morbidities in Patients with COVID-19
Umair Ahmed

Assistant Professor, Department of Medicine, Faisalabad Medical University, Faisalabad Pakistan

Aamir Shaukat

Professor, Department of Medicine, Faisalabad Medical University, Faisalabad Pakistan

Hooria Aamir

Associate Professor, Department of Physiology, Faisalabad Medical University, Faisalabad Pakista

Muhammad Arif

Assistant Professor, Department of Medicine, Faisalabad Medical University, Faisalabad Pakistan

Awais Ahmed

Senior Registrar, Department of Radiology, Mayo Hospital, Lahore Pakistan

Urwa Yaqoob

Post Graduate Resident, Department of Medicine, Allied Hospital, Faisalabad Pakistan
Keywords:
Co-Morbidities, COVID-19, Diabetes, Hypertension
Abstract
Background: This very contagious virus and the pandemic that resulted from its effects on human health resulted in major disruptions and has virtually interrupted every aspect of daily human life including transportation, business, education, and health care delivery worldwide. Patients of COVID-19 having various co-morbidities have worse outcomes when compared with patients without any co-morbidities. Patients with COVID-19 having history of diabetes mellitus, cardiovascular disease, obesity, hypertension and chronic lung disorders have poor prognosis and often lead to worsening outcomes like Pneumonia & ARDS. Old patients, patients with chronic kidney disease and patients with various cancers are not only at risk for acquiring COVID-19, but there are increased chances of mortality among these patients. Objective: The objective of our study was to determine frequency of co-morbidities in patients with COVID-19 Pneumonia. Study Design: Retrospective Cross-sectional Analytical study. Settings: Isolation Wards/HDU of Allied Hospital, Faisalabad Pakistan. Duration: 06 Months from April 16, 2021 to October 15, 2021. Methods: 100 Patients diagnosed with COVID-19 according to definition and inclusion criteria were included in the study. Following demographic features of the patients admitted in Isolation wards/ HDU's of Allied Hospital were collected: age; sex; clinical presentation; smoking history; duration between onset of disease and presentation to hospital; history of co-morbid factors like hypertension, diabetes mellitus Obesity, Cardiovascular Disease, Malignancy, history of intake of Immunosuppressive agents. Mean ± SD was calculated for the age of the patients, oxygen saturation of patients and lung involvement of patients. Frequency and percentages were calculated for the Co-Morbidities for COVID-19 pneumonia, gender of the patients, symptoms of patients. Comparative analysis of lung involvement with co-morbidities of patients was done with p value of ≤ 0.05 being considered significant. Results: Our study included 100 patients. 52 patients (52%) were males while 48 (48%) were females. Mean Age of patients was 54.91 ± 15.56 and mean oxygen saturation was 90.88 ± 5.8. Mean lung involvement of patients with COVID-19 was 30.82 ± 16.27. Fever was the commonest symptom amongst the patients included in the study (40%), followed by cough (33%) and shortness of breath (29%). Amongst the co-morbidities in patients with COVID-19, diabetes was found in 54% of the patients, followed by hypertension 34% and ischemic heart disease 6%. Conclusion: Our study concludes that individuals having underlying chronic diseases are more prone to contract COVID-19 virus and eventually develop more severe disease as compared to normal healthy persons. Thus, vaccination of this segment of society and early identification of disease among these people can help reduce morbidity and mortality.
Keywords: Co-Morbidities, COVID-19, Diabetes, Hypertension.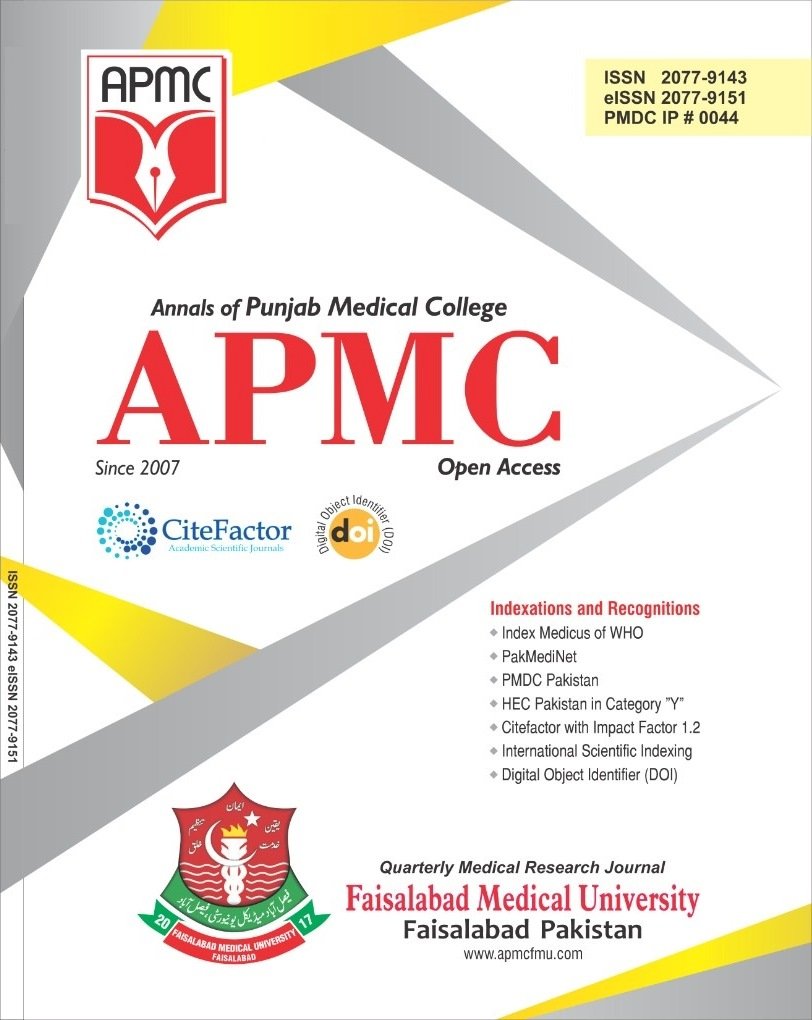 How to Cite
Ahmed, U., Shaukat, A., Aamir, H., Arif, M., Ahmed, A., & Yaqoob, U. (2023). Frequency of Co-Morbidities in Patients with COVID-19. Annals of Punjab Medical College (APMC), 17(3), 328-331. https://doi.org/10.29054/apmc/2023.1424